CFC Mall Leads the Way in Waste Management with ISO 14001:2015 Certification for the Third Year in a Row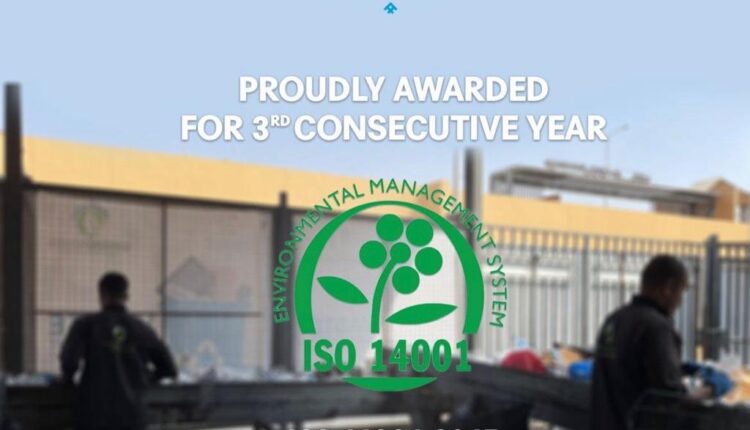 For the third consecutive year, Cairo Festival City Mall has been honored with the prestigious ISO14001:2015 certification in Waste Management. This internationally acclaimed accreditation guarantees the meticulous adherence and efficacy of its environmental impact control system, further reinforcing the sustainability of the mall's services – which has achieved an impressive waste recycling ratio of 72% year-to-date. CFC Mall is the first and only mall amongst others in Egypt to be granted this award, setting an inspiring example for sustainable waste management practices within the retail industry.
As the pioneer in Egypt, Cairo Festival City Mall remains unrivaled in its promise to sustainable waste management, exemplifying its dedication to environmental preservation through implementing a cutting-edge waste management system – which has been rigorously assessed against industry benchmarks and has been found to be fully compliant. To further demonstrate their efforts, Cairo Festival City Mall has diligently established a facility equipped with advanced segregation processes, compactors, truck bays, and treatment areas.
The intent of implementing a Sustainable Waste Management approach is to elegantly diminish the depletion of precious natural resources, ensuring that materials sourced from our environment are maximally repurposed and that the generation of waste is diligently minimized.

In order to achieve ISO compliance, CFC Mall underwent a comprehensive and thorough evaluation process, which encompassed the development of a quality management system, a detailed review of system documentation, a preliminary audit, an initial assessment, and clearance of any non-conformances.
CFC Mall is relentlessly working on a series of groundbreaking initiatives that underscore its unwavering dedication to environmental responsibility. In a comprehensive drive to reduce energy consumption, CFC Mall has adopted innovative practices such as inverter-driven AC splits in IT rooms and automated scenarios for CO jet fans in the parking areas. Integration of assets with the Building Management System optimizes energy use, while the widespread installation of LED lights, both in front-of-house and back-of-house areas, ensures energy efficiency without compromising illumination quality.
The Mall is equally committed to prudent water management, through having control over readings, and employing a drip irrigation system and tap water filters to significantly reduce consumption. Additionally, CFC Mall is setting a precedent by gradually replacing its vehicle fleet with emission-free alternatives, in alignment with updated Best Practices. Through these transformative measures, CFC Mall reaffirms its position as an industry trailblazer in sustainable retail practices.
Cairo Festival City Mall is a dedicated advocate for social responsibility, actively supporting causes that address important issues in communities. Leading the charge for sustainability, CFC Mall partners with local governments and NGOs to make a positive impact. Notably, it has taken the lead as Egypt's first shopping mall to create and execute an innovative waste management system.