«Reportage Properties» to hold a special day for sales in Abu Dhabi
Offering a 10% discount on all projects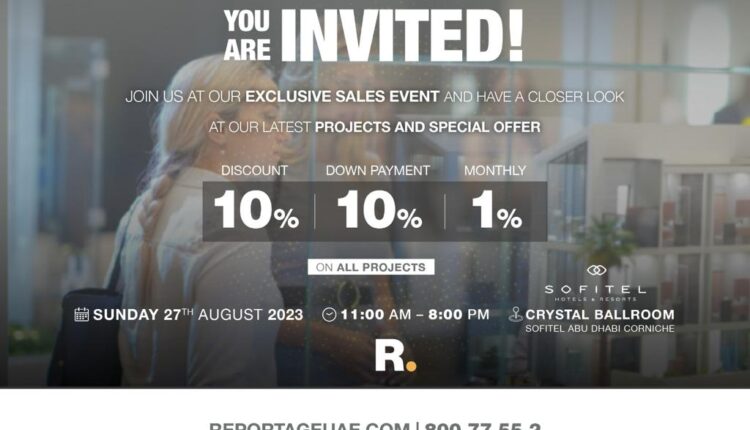 Reportage Properties, the leading UAE real estate developer, is organizing a special sales day at the Sofitel Abu Dhabi Corniche Hotel, next Sunday, August 27th.
The company offer a special 10% discount on all the projects, with 10% down payment, and 1% per monthly installments until the time of handing over.
The "Reportage Properties" portfolio includes 28 projects in the UAE, Egypt, Turkey and Morocco.
Islam Ahmed Suleiman, CEO, confirmed that the company continues to do all their projects according to the specified schedule enhancing customer confidence in the company's projects, which is being proved in the continued growth in sales.
Reportage Properties sales in 2022 toped Dhs2.3bn, compared to Dhs1.6bn in 2021, a growth of 45%.

Reportage Properties recently revealed that the Silvana project, which the company is developing in the Başakşehir district of Istanbul, Turkey, won the European Real Estate Award as the best townhouse community.
Suleiman said that the company's "Silvana" project won the European Real Estate Award as the best townhouse community, reflecting the excellence and quality of the company's projects, and their ability to implement projects with international standards and superior quality.
Reportage Properties revealed the launch of their new project "Bianca" in Dubai, which includes 653 townhouses, in the first quarter of this year.
Last year, Reportage Properties launched the "Verdana" project, located within the Dubai Investments Park, which consists of 305 townhouse units. They also launched the "Plaza" project in Masdar City in Abu Dhabi, which consists of 348 housing units, and the "Birla1″ " on Yas Island, which includes 190 housing units, in addition to "Perla 2", that adds 115 new housing units.
In 2022, the company also launched the Silvana project in the Başakşehir district of Istanbul, Turkey, which provides 232 townhouses.
During 2022, "Reportage Properties" managed to complete and hand over 3 projects in Abu Dhabi and Dubai, where units of the "Al Raha Lofts 1" were handed over in the Al Raha Beach area in Abu Dhabi, as well as the "Oasis Residence 1" project in Masdar City. The company also completed the first phase of the "Rukan Lofts" project, which is being developed in the "Dubailand" area, in cooperation with the "Continental Investments" company.