SwissCham Hosts Exclusive CEO Roundtable Unpacking the Egyptian Customs Authority's Influence on Business and Investment Policies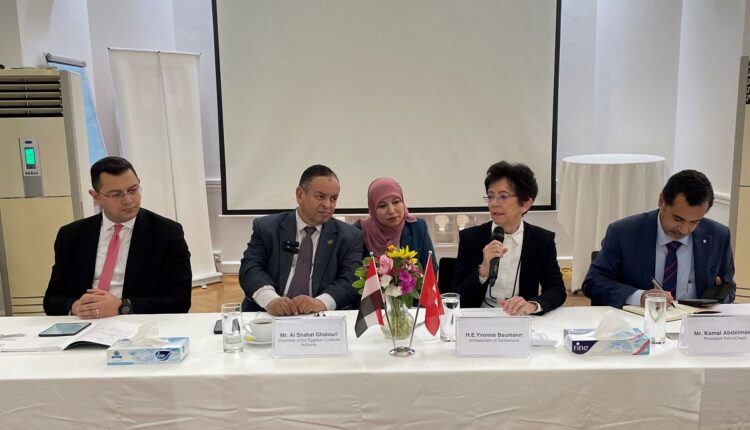 SwissCham Egypt organized a significant and enlightening roundtable discussion for prominent business leaders, in collaboration with Syngenta Egypt. The discussion focused on "The Role of the Egyptian Customs Authority in Economic and Trade Policies." The event was held at the Office of International Cooperation, Embassy of Switzerland in Cairo with the participation of Swiss Ambassador to Egypt Yvonne Baumann. The event comes within the context of SwissCham's steadfast dedication to strengthening the economic environment to promote trade and investment between Switzerland and Egypt.
The roundtable welcomed El-Shahhat Ghattori, Chairman of the Egyptian Customs Authority, as its keynote speaker, joined by Kamal Abdel Malek, Chairman of SwissCham Egypt, Hazem F. Salameh, Country Head of Syngenta Egypt, along with an elite of C-Level executives and corporate representatives.
During the roundtable discussion, attendees exchanged ideas and insights, inquired about current challenges and discussed how to handle the various decrees issued by the customs authority to advance their businesses.

In his welcome remarks, SwissCham Chairman, Kamal Abdel Malek, stated, "SwissCham Egypt cultivates a more efficient and investor-friendly business environment by fostering direct engagement between the Egyptian customs authority and our members."
Meanwhile, Ambassador of Switzerland, Yvonne Baumann explained, "the interest of Swiss companies and investors in the Egyptian market remains intact. In spite of some challenges there is a great potential in many sectors. Hence, the efforts of the Egyptian government with regard to enhancing the investment climate, and particularly of the Egyptian Customs Authority towards facilitating trade and simplifying the formalities for foreign companies in Egypt are remarkable accomplishments."
El Shahat Ghatouri, Chairman of the Egyptian Customs Authority noted, "We are delighted by the increasing interest of Swiss companies and investors in the Egyptian market. The Customs Authority has implemented measures to streamline customs procedures, reducing both the time and costs associated with import and export operations. Through the establishment of 15 logistic centers, covering over 99% of Egyptian trade, we bolster domestic and international commerce, fostering an attractive investment environment. The Customs Authority is committed to further strengthening cooperation with relevant investment entities, the private sector, and the business community to promote Egyptian exports to global markets."
SwissCham Egypt remains committed to fostering a dynamic platform for collaboration between Egyptian and Swiss companies. It provides an excellent opportunity to elucidate and clarify various decisions while bridging perspectives among leaders from the government, private sector, and development partners. This helps shed light on the CEOs' agenda for the upcoming year, facilitating influential channels for interactive discussions, and contributing to a more prosperous business environment in Egypt for both Swiss and Egyptian enterprises.