The Egyptian team wins the First Place in the Arab FinTech Challenge for Universities 2023
Under the «FinYology» Initiative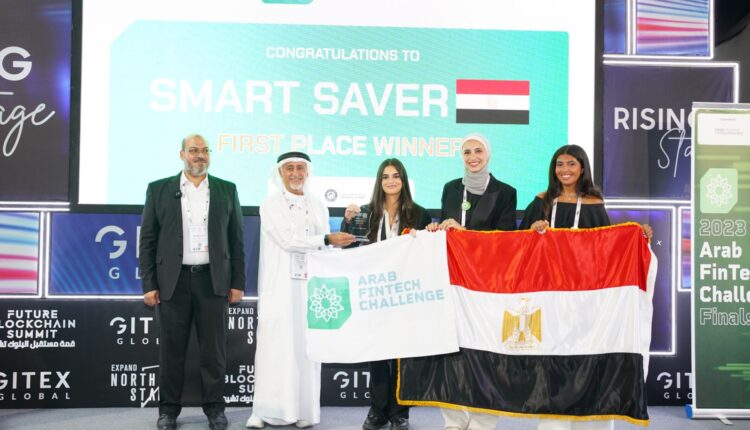 Under the "FinYology" initiative, the Egyptian FinTech Got Talent Students participating from "The American University in Cairo" win first place in the 1st edition of the "Arab FinTech Challenge" (AFCT), sponsored by FinTech Egypt, an affiliate of the Central Bank of Egypt (CBE).
The 1st edition of the AFTC was held in the MENA region for the first time among university students. The competition took place on the sidelines of GITEX North Star, Dubai, UAE, the largest technology and startup exhibition in the region from October 15th to 18th, 2023.
The competition aims to encourage and promote financial technology by supporting and stimulating the innovation of startup projects among university students in Egypt and other Arab countries, as well as qualifying and technically supporting the launch of their FinTech projects in various markets.

The "MINT Incubator," a business incubator founded and owned by EGBANK, provided a comprehensive technical support program for all participating Egyptian teams to bring their ideas to implementation phase and equip them with the required skills for the competition.
The victory came after fierce competition with a number of other participating universities from different Arab countries, including the UAE, Lebanon, and Jordan. The Arab Republic of Egypt was represented by two teams from "The American University in Cairo" and the "Chinese University" in Egypt, which are the teams that previously won the final qualifiers of the "FinTech Got Talent" competition, among eight other teams representing universities in Egypt, which was launched in July this year under "FinYology" initiative.
FinYology "FinTech for Youth" Initiative; has been operating for nearly four years powered by FinTech Egypt and the Egyptian Banking Institute acting as a strategic partner, with an aim to discover young talents and enable the emergence of FinTech & Innovation at an early age, for university students by implementing new FinTech solutions and applications that meet the needs of the Egyptian financial and banking market and to provide distinctive training opportunities for university students in banks operating in Egypt, which contributes to their acquisition of practical experience before graduation.